Here's your final reminder to get into the Marketing Master Insiders Club at the Founders rate.
https://club.vincegabriele.com/
This Expires tonight at midnight but since I'm about to go to bed I'm sending this now.
Getting started is $1 for the first 60 days with absolutely no commitment.
https://club.vincegabriele.com/
Vince Gabriele
P.S. Here's what you get for your buckVince's Marketing Newsletter (Print)
This is the ONLY fitness business print newsletter published by an active gym owner in the world! This will share with you everything that our most successful gym owners are doing to Market their gym – so you can copy them! We send this to you every 30 days to make sure you can never be stuck for ideas to bring in new clients …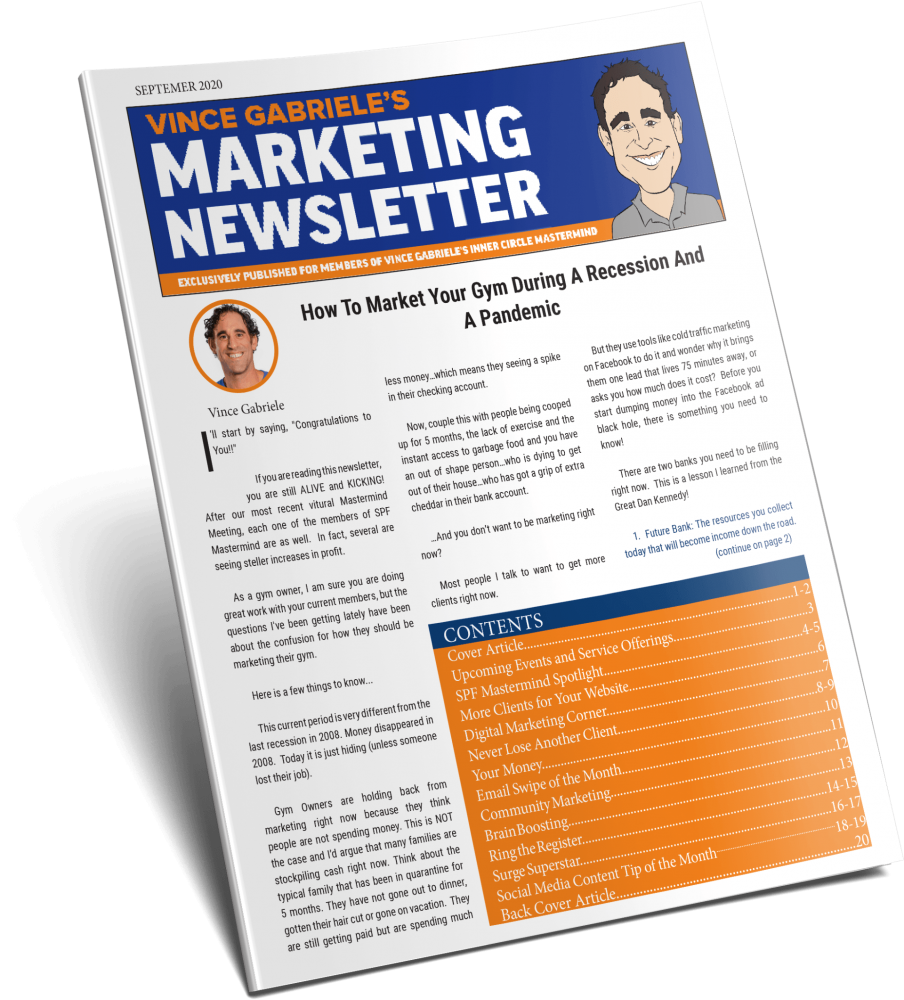 Live Monthly Group Coaching Call with Vince Gabriele – every month you'll get access to me where I can personally answer your most pressing questions (…if you can't make it live, you'll get the replay sent to you on online so you can't miss it)
Access to the Private Members website – here you can listen back to the replays of all previous coaching calls plus access other, new, constantly updated resources and trainings we'll be giving you during your membership…
Access to the FBU Online Private Facebook group – this is for members only and you can benefit from the $10,000's of marketing and other resources that are openly shared in the private Facebook community by members…
Free Ticket to my next Live Event – Just a few times per year I host a 2 day LIVE event at my gym in New Jersey. We spend two days giving you everything you need go home and start making more money immediately.
My New Book Unshakeable Gym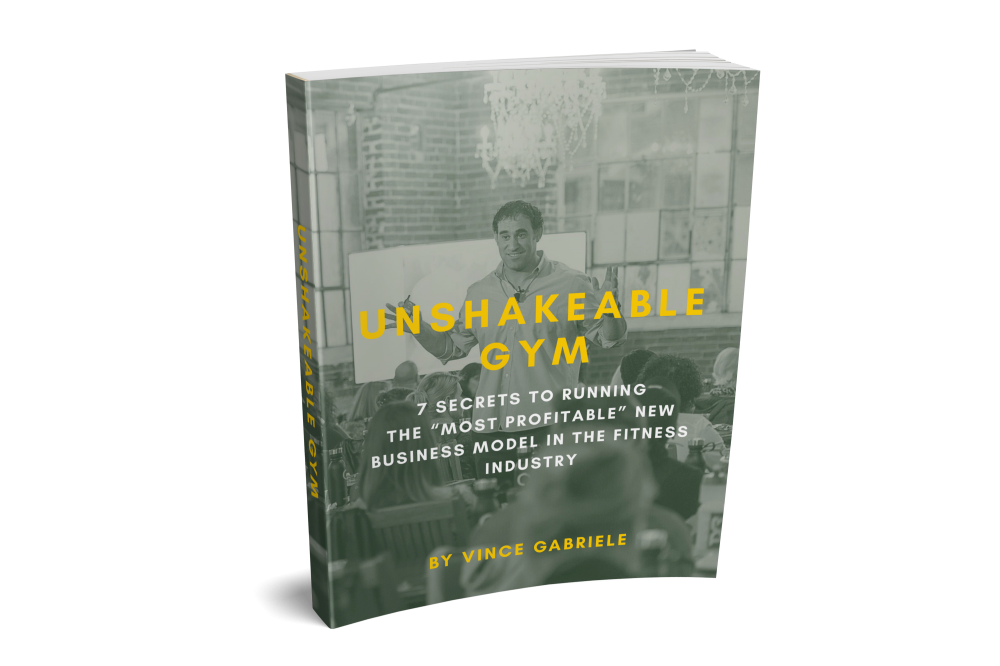 PLUS…Whenever you're ready here are 5 ways to work with me…

1. Get 60 Days of Business Coaching for $1
Test Drive my new "affordable" coaching program that will help you navigate this current pandemic and become the master of your marketing so you can be in complete control of your business destiny.
To get Access to this program click here.
2. Get A Free Website Audit
My resident Tech Nerd will hop on a call with you and check out your website and give you some serious tips to make that puppy finally start to bring you new clients!
You can book a call with my tech nerd here.
3. Subscribe to Second Ranked Fitness Business Podcast in the World
Get Access to well over 100 free opportunities to get business coaching from me and my very smart friends. Click Here to Listen.
4.   Get Access to My 101 Ways to Get New Clients Without Spending Money
Click here to get it 

5. Become My Next Private Coaching Client

Want to work directly with me 1-1?
Whether you want to become a better leader, systemize your business or simply get out of the day to day, I'll help you get there…fast. I take very few clients for this program and have 2 open spots for 2020.
To get more info reply to this message and put "1-1" in the subject line…